'Building for Bharat' – Abheek Anand in Mumbai on December 16, 2016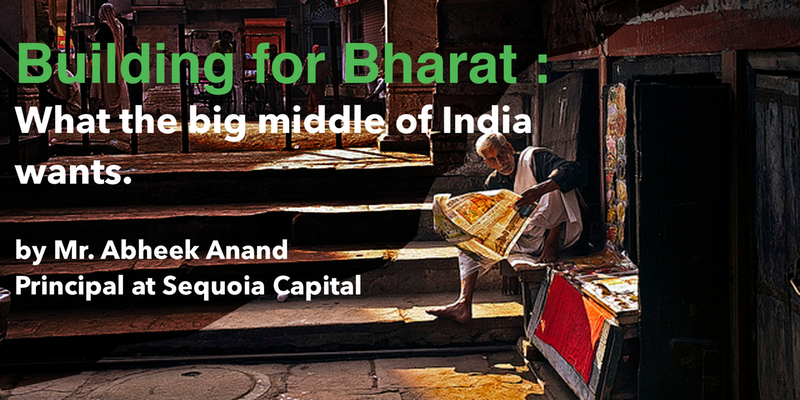 A Deluge Of What Bharat Wants The Most Now!
India is seeing more companies being launched and built everyday than ever before, are we missing out on building for big middle for India or we are reshaping Indian in true nature? Come join in for a session by Mr. Abheek Anand – Principal at Sequoia Capital, to know more about what majority of India wants.
Mr. Abheek Anand, Principal at Sequoia, has been investing in early stage technology companies and been with Sequoia Capital since 2013. Prior to that he was a product manager at Facebook responsible for several ads and business products, including Promoted Posts and Promoted Likes. He also co-founded TagTile that was acquired by Facebook. He is an alumnus of IIT-Delhi and later went on to pursue an MBA from Stanford University Graduate School of Business.
Sequoia Capital is one of the largest Venture Capital firm in the world. It is located in Menlo Park, California and mainly focuses on the technology industry. It has backed companies that now control $1.4 trillion of the combined stock market value. The fund has invested some $2 billion in India in the last decade, including companies JustDial, Practo, Zomato, FreeCharge and many more.
This talk will be followed by a one-on-one interaction session.
Date : Friday, Dec 16, 2016 – 2.00pm to 4.00pm.
Attend this session to learn more about :
– What is that Indian population wants / What to build for India
– Key ingredients in a startup
– What makes a startup favorable for investment
The event is free for all to attend, yet it's mandatory to register as we have limited seats!
P.S – To have one-one-one interaction session with the guest, we request you to kindly register as a startup.