Urban Escape Wayanad on June 11, 2016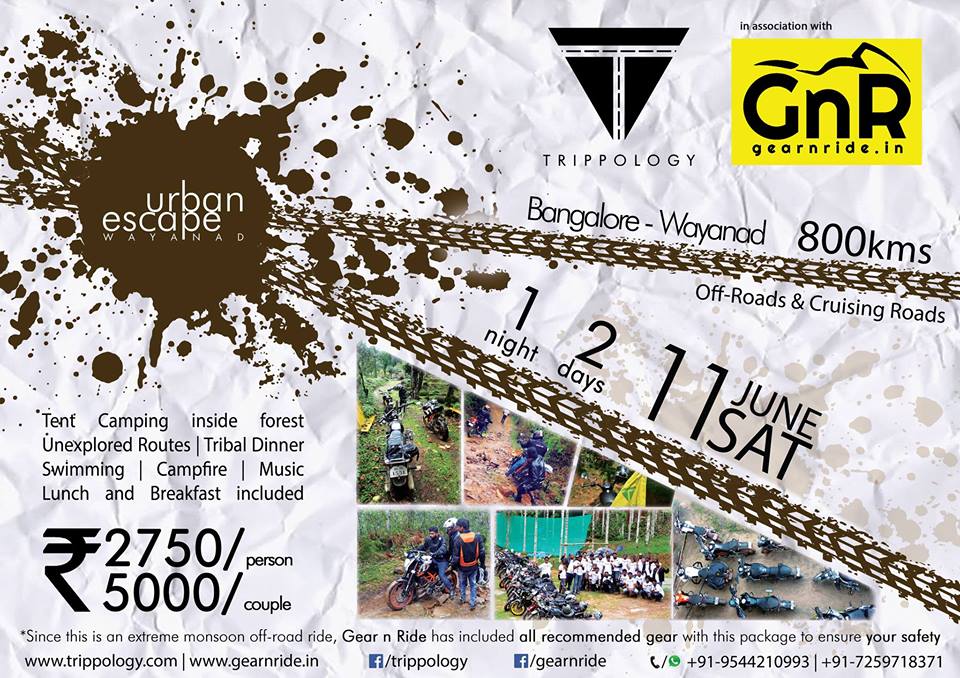 Get ready to experience the most adventurous package exclusively designed for bikers, called the UrbanEscapeWayanad.
Gear n Ride has its roots in the safety of how a biker should travel and safe group riding ettiquetes. We believe every rider must take all the small steps he can, to ensure his safety along with other riders' safety on road. Gear N Ride has also included all the recommended riding gear to ensure your safety. We are focusing more on delivering vital bike safety tips along with an unforgettable adventure behind it.
UrbanEscapeWayanad is an adventure ride package designed exclusively for bikers by Trippology. The package includes places in Wayanad that have never been explored before. The night stay is set inside the forest, which is completely electric fenced to prevent entry of animals. With some music and tribal dinner we can relieve all the stress of the Urban life we have and #ExplorethePlanet.
RIDING GEAR IS COMPULSORY FOR THE RIDE
All the bikers must have a riding jacket, riding gloves, knee guards and rain pants.
The package includes all of the above for riders as well as the pillion and special packages for bikers getting their own gear.
SINGLE BIKERS – 2750 /-
COUPLES – 5000 /-
Package timings:
– Weekend Package starting on Saturday
– Starts 6 AM from Bangalore
– Lunch at Wayanad
– Visiting Unexplored Places
– Night stay inside the forest with Tribal Dinner, Campfire and Music
– Sunrise Ride in the morning
– Breakfast at Resort
– Return to Bangalore
Includes:
– 1 Lunch
– 1 Tribal Dinner
– 1 Breakfast
– Night camp inside the forest
– Backup technician
– Riding gear (Riding Jacket, Riding gloves, Knee Guards, Rain Pants)
For registration and enquiries :
Contact – 7259718371 ( Manan )
– 9544210993 ( Akhilesh )
Registration is still OPEN.
Fill this form and we will get in touch with you as soon as possible.
http://goo.gl/forms/V7r5bWokmvxJsa6f2
Facebook Event: https://www.facebook.com/events/1013062835454824