Internet of Things India Summit 2016 in Mumbai on August 24, 2016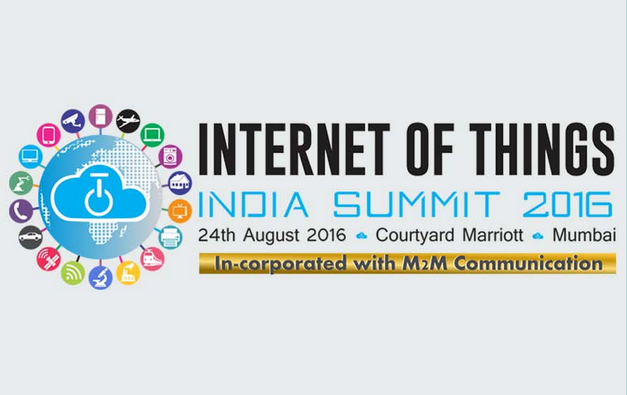 The internet of things and M2M is now growing rapidly and is reaching different verticals and industries. India is one of the countries where a lot of innovation is happening around IoT across different verticals and technologies. The IoT ecosystem in India is mainly driven by 3 players: Government, Industry and Startups.
Machine-to-machine communication is seen by technologists, analysts and major companies across the world as the next great tool to revolutionize business. However, predictions for the size of the market vary and uptake, so far, has been limited. M2M is certainly happening, but the market is fragmented into numerous verticals. Estimates of the size of the M2M market and its likely growth vary, but the widespread influence that this technology will undoubtedly have is concentrating the minds of all kinds of companies. Those whose M2M strategies succeed will have as much sway over our lives as Smartphone vendors and mobile operators do today
Typically, IoT is expected to offer advanced connectivity of devices, systems, and services that goes beyond machine-to-machine communications (M2M) and covers a variety of protocols, domains, and applications. The interconnection of these embedded devices (including smart objects), is expected to usher in automation in nearly all fields, while also enabling advanced applications like a Smart Grid, and expanding to the areas such as smart cities. M2M and the Internet of Things has huge potential, but currently comprises a heterogeneous collection of established and emerging, often competing, technologies and standards (although moves are afoot here). This is because the concept applies to, and has grown from, a wide range of market sectors. Experts estimate that the IoT will consist of almost 50 billion objects by 2020.
The Internet of Things, powered by Machine-to-Machine communication, is already with us, but remains a massive opportunity. Properly implemented, it can retool large parts of the world for better efficiency, security and environmental responsibility — and of course it can generate potentially huge amounts of business for the IT companies that will build and run the systems involved.
Many technology sectors stand to benefit from this new world order, including mobile network operators and fixed broadband providers, system integrators, cloud service providers, mobile app developers, sensor and wireless infrastructure vendors, and purveyors of Big Data infrastructure and analytics.
In an ideal world, M2M equipment will interoperate smoothly, service providers will compete on a level open-standards playing field without attempting to lock customers into their ecosystems, and the Internet of Things will develop with the same explosive inventiveness as did the original internet.
It gives us immense pleasure to inform you that we are coming up with our annual flagship international conference on IoT/M2M -"Internet of things India Summit 2016- In corporate with M2M" scheduled to be held on 24th August at Courtyard Marriott, Mumbai, India.
Internet of Things India Summit 2016 will focus on:
Latest IoT/M2M trends & opportunities in India and worldwide.
Emerging verticals in IoT/M2M.
The future of industrial Internet of things.
How IoT/M2M creating business & services in India and worldwide.
New revenue streams in IoT/M2M ecosystems.
The impact of IoT/M2M on Indian and global economy.
Emerging IoT/M2m security & privacy challenges for business and enterprises.
How IoT/M2M data will help to drive innovation.
How software monetize as a driver for successful IoT/M2M business models.
How IoT/M2M wearable will take digital India to next level.
IoT/M2M cloud architectures and data success strategies.
Website URL: http://www.nexgenconferences.com/iot-m2m/index.html