Under 25 Summit 2019 Bangalore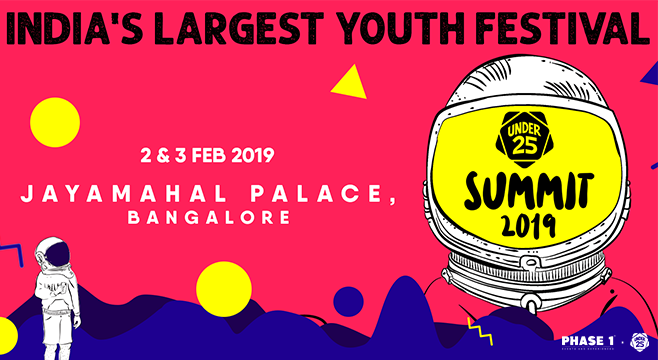 India's Largest Youth Festival, the Under 25 Summit is back! The 6th edition of the Summit is taking place on the 2nd and 3rd of February 2019 at Jayamahal Palace Hotel, Bangalore and will see some of the biggest names in the country share their stories. The attendees will be treated to top notch curation, an incredibly festive vibe and an experience to remember!
With speaker sessions, panel discussions, workshops, performances, a flea market and incredible energy, there is something for everyone at the Under 25 Summit.
Get a chance to bring your parents to the festival for free.
Buy your tickets now!
All details are available at www.under25summit.com
#IAmUnder25
Line Up
Prajakta Koli: Prajakta Koli is a YouTuber and Comedian who is popularly known as ?MostlySane?
Rega Jha: Rega Jha is the Founder and ex-editor-in-chief of BuzzFeed India.
Abish Mathew: Abish Mathew is a stand-up comedian who is most popularly known as the host of ?Son of Abish? – A comedy talk show.
JordIndian: Vineeth Naser form the JordIndian, who create comedy sketches and were a part of this year?s YouTube Rewind.
Mumbiker Nikhil: Nikhil is a vlogger who documents his travels across the country and a YouTube sensation with over 2 Million subscribers to his name.
Bruised Passports: Savi and Vid are also known as ?Bruised Passports?. They are a Travel Duo who?ve documented their travels to over 80+ countries.
Shivesh Bhatia: Shivesh Bhatia is a self-taught baker, food blogger and author of the book ?Bake With Shivesh?.
Amandeep Singh: Amandeep Singh is a well-known storyteller and poet across India who has also performed at Jashn-e-Rekhta, which is the biggest Urdu festival in the world.
BeYouNick: Nick is a popular YouTuber who does a variety of comedy sketches.
Auditya Venkatesh: Auditya Venkatesh is a self-taught photographer who is well-known as ?Audi Photography? on social media. He travels across the world and also works on films as a D.O.P.
Shirley Setia: Shirley Sethia is an Indo-Kiwi singer from Auckland who?s made her way through the ranks in Bollywood. Her work includes ?Disco Disco? from the movie ?A Gentleman? and ?Tu Jo Mila? from the movie ?Raabta?.
Aayushman Sinha: Aayushman Sinha is one of the partners at On Stage Talents, which is India?s Premiere Multi Genre Talent Agency which manages the likes of Lost Stories, Shirley Sethia & KSHMR.
Jovanny Ferreyra: Jova is the Founder and Curator of The Artidote, the largest digital platform for mental health in the world today, with a following of over 5 million across all platforms. He believes that #MentalHealthIsOverEveryDamnThing and is on a mission to spread positivity across the world
Rob: Harun Robert A.K.A Rob is a professional artist and TV personality. He was the host and creative director of the popular show M.A.D which aired on Pogo. Along with this he's also running an active YouTube channel under the name MadStuffWithRob, with over 600K subscribers, art has never been fun without him.
Niharika NM: Niharika NM is a Bangalorean Youtuber who rose to fame because of her funny, quirky and relatable content! With almost 300K Subscribers on YouTube, she's only growing bigger by the day with over 36 million views!
Coolman Coffedan: He is an artist in NYC who has gained popularity through his surreal, humorous and crudely-drawn animations.
Chef Thomas Zacharias: Thomas Zacharias is the Chef and Partner of The Bombay Canteen! His culinary journey started a very young age, inspired by his grandmother?s home-cooked food. He?s worked all over the globe and has travelled all over the country to perfect his style of food bringing in inspirations from every state in the country. His food creates memorable experiences and drooling mouths!
Vinesh Johny: Vinesh Johny is the co-founder and Executive Pastry Chef of Lavonne Academy for Baking Science and Pastry Art. Lavonne brings in pastry chefs of international repute and thereby provides world class education to students wanting to specialise in the field. Known best for his engaging personality and his non-conformity to old-school methods of teaching, Vinesh brings his expertise to the table through the masterclasses he conducts in addition to heading the academics for the Diploma program at Lavonne.
Soundarya: Soundarya's music is a blend of bluesy rock, pop and soul, with a touch of the Indian clasaics. She holds an 8 yr training in Carnatic music, 6 grades in guitar and a professional certificate in vocal performance from AR Rahman's school of music.
Sandeep Rasaily: Sandeep Rasaily is a singer/ songwriter shadowing the music scene by performing solo as well as collaborations since 2005. Born in Darjeeling and raised in Sikkim, he writes music in English, Hindi and Nepali.