Enigma 2018 – Technical Fest in Karnataka from April 13-15, 2018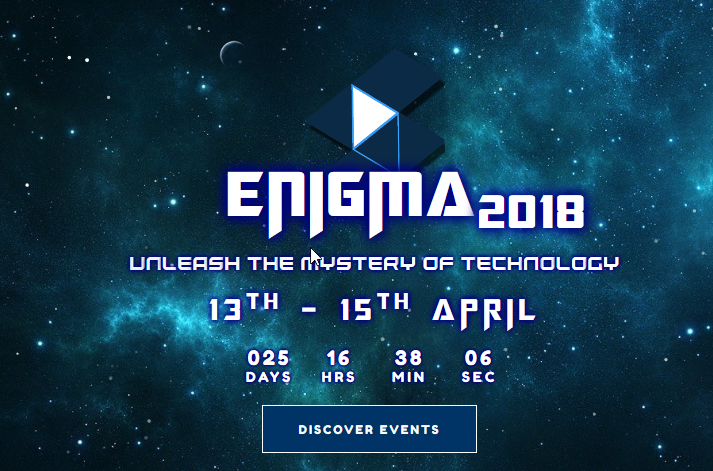 Enigma – the state level technical fest is conducted by the Malnad Technical Club.It sets an arena for the students where fun and innovation go hand in hand. It encompasses events, workshops and shows.
Events
Engima houses three geners of events namely Design and Build , Paper Events and Online Events.
Workshops
Workshop on Cyber Security and Ethical Hacking- An open-to-all pre-ENIGMA happening, exclusively aimed at all the hacking enthusiasts out there.
Shows
The most enlivening part of the fest, a major crowd puller! ENIGMA's much awaited attraction.
Malnad College of Engineering, located in the pristine city of Hassan, is one of the prestigious engineering colleges in Karnataka. The Institution is affiliated to VTU Belgaum and is accredited by the National Board of Accreditation. MCE offers courses in nine main engineering disciplines and has earned the ISTE award in 2007 as one of the best engineering colleges in the country.
Tutelage in MCE is never just about books and exams. Its hold is always to impart technical knowledge to the students by going beyond the scope of the syllabus, developing entrepreneurialism. It takes every responsibility to arrange everything that can refresh, recreate and rehearse. Intensive counterpart of the above intentions is encouraging its students to organize and participate in those events. The Malnad Technical Club of MCE is in one such contrive, ENGIMA.
The Malnad Technical Club, which was started to cope with the rapid growth of technology, has come a long way, seeding constructive ideas, encouraging students to explore the boundless technology. ENIGMA is one such initiative, which was started as an inter-college technical fest, even embedding a few national level events in it.
TECHSANDHYA, college's first technical newsletter was launched during ENIGMA'16. TECHSANDHYA is a great platform for aspiring writers to put forth their ideas on a technical aspect. This year, we will bring out its 3rd edition with the more interesting matter. It is definitely the most awaited part of ENIGMA'18 for science and technology enthusiasts.
Website URL: http://www.enigma18.in/