Entrepreneurship Workshop By LHH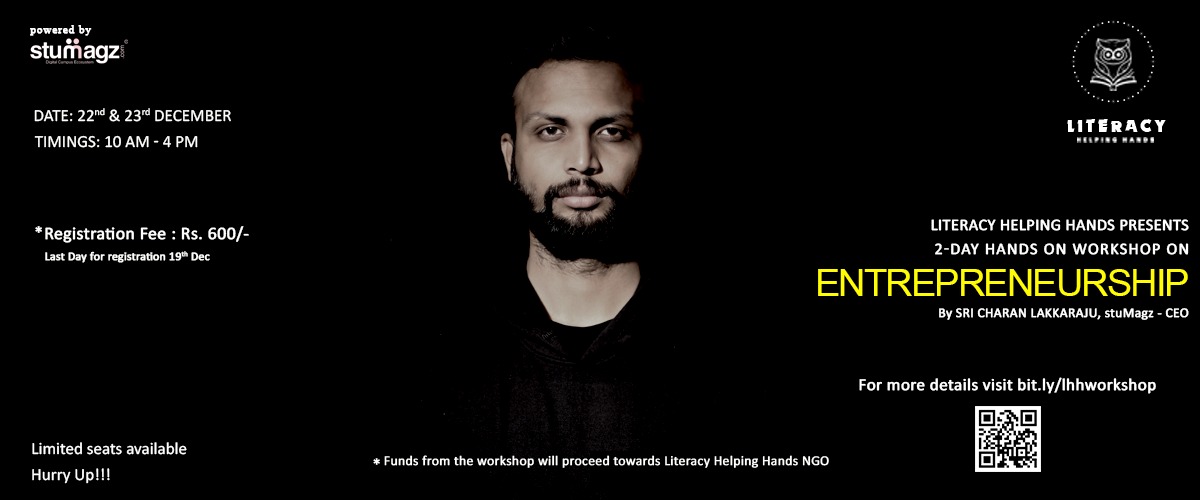 Entrepreneurship Workshop is a 2 day workshop organised by Literacy Helping Hands in association with stuMagz.
It is designed to provide students & young entrepreneurs a platform to understand new trend developing within and around their industries, network all around, gain insights from the speakers, make their startup more visible and receive constructive feedback from both the users and leaders in the industry.
It aims to inspire aspiring students and young entrepreneurs to understand the fundamentals of startup and help to transform business dream into reality.
For queries, contact: +91 8341854464
Who can attend?
Aspiring candidates who aims to be a successful Entrepreneur, Innovative, Managerial skills and such others to run a successful business.
Note: Candidates who are really passionate and have an idea must submit about it while registering.
What you get from the workshop?
1. Essentials of innovation & start ups
2. Ideation & Validation
3. Various categories of startups
4. Standard, Scalability, Scope, Sustainability
5. Building business strategies to have best product
6. Branding & Marketing
7. Work space Management
8. Funding & It's Future